The Outer Banks Center for Dolphin Research, established in November 2008, is a 501 c(3) non-profit organization engaged in a long-term photo-identification study of bottlenose dolphins in the northern Outer Banks of North Carolina.
Our mission is to promote the conservation of bottlenose dolphins in the northern Outer Banks through research and education. We seek to learn more about the population ecology, movement patterns, health, and behavior of coastal bottlenose dolphins and to expand public knowledge and concern for these marine mammals.
Our scientists also collaborate with other marine mammal scientists along the western Atlantic coast in order to further understand their long-range movement patterns.
The 9th Annual Outer Banks Shrimp Cookoff is coming up on Sunday November 4th, 2018 from 12-3 pm at Ocean Boulevard! Click here for to buy tickets online or for more details!
Outer Banks Center for Dolphin Research t-shirts are now updated and available online! Click here to purchase!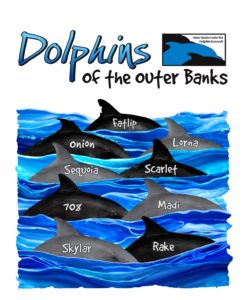 Looking for the perfect gift for birthdays, anniversaries, or another special occasion? Our Adopt a Dolphin Kits and t-shirts make great presents while supporting dolphin conservation in the Outer Banks! Click here to learn how to sponsor an Outer Banks dolphin!
The OBXCDR 2018 newsletter is now available! Click here to download!
We are so excited to announce that the Outer Banks Center for Dolphin Research recently received a grant from the Outer Banks Community Foundation to assist in funding our 2018 field surveys and an educational display for dolphin conservation at Jennette's Pier! Being able to complete additional surveys this year will aid in our understanding of the dolphin population in the sounds surrounding the Outer Banks. The educational display will accompany the skeletal display of our longtime dolphin friend, "Moe," who for years visited Roanoke Sound with his best friend, "Bud." He passed away two years ago but was recovered by the stranding response team in Beaufort. His skeleton is currently being prepared for display by the North Carolina Maritime Museum. "Moe" will be coming "home" to the OBX early next year! Stay tuned for updates on our field season and more about "Moe!"
Interested in volunteering with the Outer Banks Center for Dolphin Research? We are currently seeking volunteers! Click here for more information!
In summer 2013, coastal bottlenose dolphins along the U.S. east coast experienced an unusual mortality event where record numbers of dolphins stranded along the beaches. The event reached the Outer Banks, NC in August 2013. For more information about these strandings, click here. The Outer Banks Marine Mammal Stranding Response Team responds to marine mammals strandings from Currituck County, NC south through Hyde County, NC. For more information on how to report a marine mammal stranding in the Outer Banks, click here.
Looking to learn more about dolphins in the Outer Banks? Join us on FaceBook at Onion, A North Carolina Dolphin and Outer Banks Center for Dolphin Research as well as on Instagram at obxdolphins for updates on the Outer Banks dolphins this summer!