The Outer Banks Center for Dolphin Research was incorporated as a 501 c(3) non-profit organization in 2008. Here are some of the people that make the research and outreach possible:
Executive Director: Jessica Taylor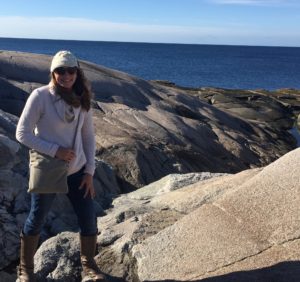 While completing my undergraduate studies in Marine Sciences at Rutgers University, I realized a strong interest and passion for dolphin research and conservation. After receiving my Bachelors of Science, I completed internships with the Sarasota Dolphin Research Program and the Marine Mammal Behavioral Ecology group at Texas A&M University as well as worked as a research technician for the Rutgers University Marine Field Station. I received a Masters of Environmental Management degree from Duke University. My Masters Project focused on the foraging ecology of bottlenose dolphins in Sarasota, FL. Since receiving my Masters, I have worked as a contract biologist for NOAA studying Stellar sea lions in Alaska and bottlenose dolphins in South Carolina and North Carolina and a science teacher for Dare County Schools. I am also employed by the Nags Head Dolphin Watch as a naturalist and intern coordinator. I live with my husband, Jay, two children, one dog, and five chickens in the Outer Banks.
Scientific Advisor: Shauna McBride-Kebert, Ph.D.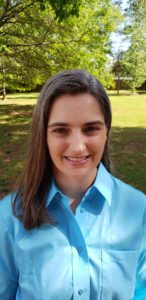 I've always been interested in marine life, especially marine mammals. During my undergraduate degree at Agnes Scott College, I completed internships at Dolphin Research Center and the Whale Center of New England. After graduating, I was accepted into the Marine Mammal Behavior and Cognition Laboratory at the University of Southern Mississippi. For my master's thesis, I used photo-identification data to examine the seasonal and diurnal behavioral patterns of bottlenose dolphins in Mississippi Sound. My doctoral dissertation, in collaboration with the Outer Banks Center for Dolphin Research, studied the habitat use of bottlenose dolphins in Roanoke Sound, North Carolina. We used photo-identification data to determine whether dolphins use specific areas for feeding, socializing, and traveling.  I also worked as a Research Assistant processing photo-identification data at Chicago Zoological Society's Sarasota Dolphin Research Program. I am currently contracting as a Protected Species Observer who monitors for protected species, such as marine mammals and sea turtles, and mitigates disturbance to protected species during offshore projects. I live with my husband, two dogs, and cat in Georgia.
Volunteer Coordinator: Liah McPherson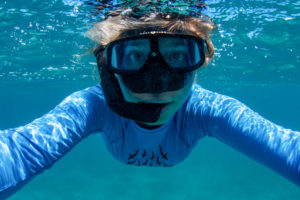 Raised in Southern Shores, Liah is an OBX local and lifelong ocean addict.  A Biology and Cognitive Science student at the University of North Carolina at Chapel Hill, she researches phytoplankton, corals, and most passionately, dolphins.  She has been a research and outreach volunteer with the Outer Banks Center for Dolphin Research since 2012, and has been on the board of directors since 2013.  In 2017, she became a field assistant for the Wild Dolphin Project, and now spends her summers studying wild Atlantic spotted dolphins.  An avid freediver, photographer and traveler, Liah is always searching for opportunities to explore and protect marine environments.
Intern: Kayleigh Herrmann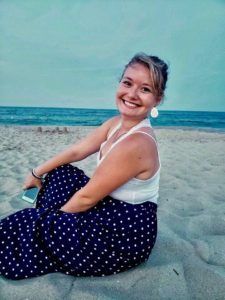 An OBX local, Kayleigh Herrmann is thrilled to be joining the OBXCDR and Nags Head Dolphin Watch teams for Summer 2021! A 2020 graduate of UNC-Wilmington, she graduated with degrees in Marine Biology and Environmental Sciences. During her final year of study, she completed an undergraduate honors thesis under Dr. Michael Tift, where she calculated naturally-occurring levels of carbon monoxide in the tissues of bottlenose dolphins. She had the honor of being selected as a 2018 NOAA Hollings Scholarship recipient and was acknowledged as a Distinguished Undergraduate Research Scholar with the UNCW Honors College in May 2020. She is excited to work with a dynamic group of collaborators this summer and help contribute to research on such a charismatic keystone species.

Intern: Shae Kelliher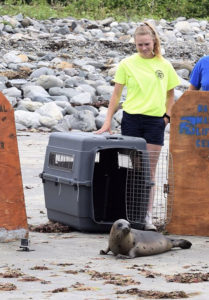 My name is Shae Kelliher and I am a 2019 graduate from the University of New England
with a BA in Marine Affairs along with a Climate Change Studies minor. During my time in
undergrad, I pursued an interest in combining my admiration for the environment with my
motivation to create future ocean stewards. 2018 allowed for me to begin my experience within
the marine mammal stranding and response field alongside a growing love for environmental
education. Since then, I have continued on to further these skill sets through organizations such as Seacoast Science Center, Rye, New Hampshire; the International Fund for Animal Welfare, Yarmouth Port, Massachusetts; as well as Saltwater Classroom, Portland, Maine. I aim to diversify my cetacean field knowledge through my time with the Outer Banks Center for Dolphin Research while continuing my passion for community outreach aboard the Nags Head Dolphin
Watch!
Intern: Chloe Hansum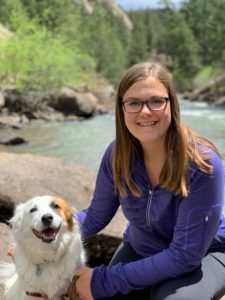 Growing up in Colorado, Chloe loves spending time outside exploring the natural world. She is a recent graduate from Dordt University in Sioux Center, Iowa where she graduated with a biology major and environmental science minor. Chloe had the opportunity to intern for the National Oceanic and Atmospheric Administration (NOAA) researching the development of Arctic cod and intern with the US Fish and Wildlife Service analyzing habitat suitability of endangered bumble bees. With a strong interest in whales and dolphins, in the future Chloe hopes to research the impacts of climate change on marine mammals. Chloe is beyond exited to join the OBXCDR and the Nags Head Dolphin Watch team this summer!
Collaborators
Our efforts are also made possible by collaborating with scientists from other organizations throughout the country. These scientists make valuable contributions to our research program:
Kim Urian, Research Analyst, Duke University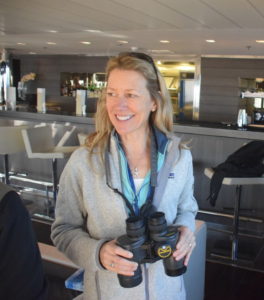 Leslie B. Hart, Ph.D., Assistant Professor of Public Health
Department of Health and Human Performance, College of Charleston
Jeff Adams, Marine Resource Management Specialist
National Marine Fisheries Service, Office of Protected Resources
Holly Fearnbach, Ph.D., Marine Mammal Research Director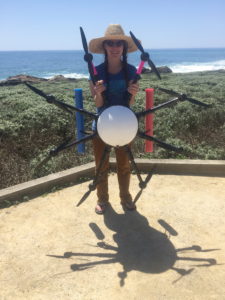 SR3, SeaLife Response, Rehabilitation, and Research
Keith Rittmaster, Natural Science Curator
North Carolina Maritime Museum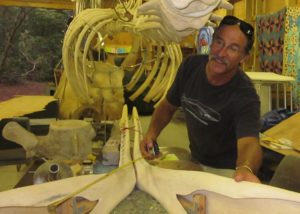 2021 Dolphin Research Board Members
President: Jay Taylor
Treasurer: John Kerner
Volunteer Coordinator: Liah McPherson
Scientific Advisor: Shauna McBride-Kebert
Board Member: Kara Shervanick
Board Member: Rachel Potts
Executive Director: Jessica Taylor